The Family of Richard Masters
The Masters of Walcote  story starts …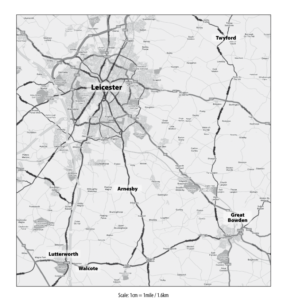 When Joseph Masters (b1760s) and Ann Brown (b1766) married at St Nicholas' Church in Mowsley in . Their children were:
James (b1807),
John (b&d 1809),
John (b1811 – Richard's father),
Elizabeth (b1811),
Mary (b1817),
Anna (b&d 1818).
These children were christened in St Peter's and grew up in Arnesby.  Around about 1820, the family moved to Walcote where the family grew.

Thomas (b1820),
William (b1824) and
Joseph(1828)
These children were christened at St Leonards and the family all lived in Walcote, Misterton.
When William Armston (b1772) and Elizabeth Smith (b1766) were married in South Croxton in 1796.  Their children were:
Catherine (b1797),
William (b1799),
Ann (b1802),
Thomas (b1805) and
Richard (b1808).
The children were all christened in St Andrews Church and were brought up in Twyford, east of Leicester.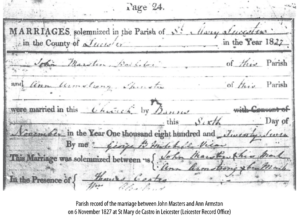 In 1827, Ann Armston and John Marsters were married in Leicester, and lived in Walcote among the other Masters families.
John worked as a shepherd at this time, and later got to own a little farm and then a pub in Great Bowden (Market Harborough).
Their signatures are marked with an X which means that they could not write, and therefore may not have realised that their names were not spelt correctly. It may also have encouraged the misbelief that Ann's surname was Armstrong.
Richard went to school and could read, so he may also have assumed that his mother's surname was Armstrong and passed this on to his family. Interestingly, Ann's brother Richard (b1808) did later change his name to Armstrong.
John and Ann had three children who were all born in Walcote and were christened at St Leonard's, the village church in between Walcote and Misterton.
Elizabeth (b.15 June, 1828). She married  a blacksmith, Thomas  Archer in 1850, and died in Misterton in 1891
Richard (b 6 November 1831).  He married local villager, Charlotte Farmer on 10 Nov 1851 and had a son, John Richard.  Although it is unsure who Sarah is, Richard and Sarah had a daughter whom his parents later christened on 25 May 1856, as

Ann Elizabeth Joel

.  Joel the name given in memory of their son who had died a few months before she arrived to live with them. Richard left England soon after 1856, and worked as a trader, travelling around the Pacific with his Penrhyn wife, Akakaingaro whom he called Sarah, and their children. They arrived on Palmerston in 1863 and he died there in 1899.
Joel (b 7 June 1840 and was baptised on 20 June). Normally, babies of the day were baptised on or soon after their birth. He may have been a sickly child and died at the age of 12, on 13 January 1853. His headstone is the only remaining one of the Masters family.
Richard William Masters appears to have had a fairly uneventful life until he was forced to marry Charlotte Farmer because she was pregnant. However, he didn't endear himself to his family when he left his family and absconded with Sarah. Probably more so when five years later, he returned with a young toddler in hand. It is unknown why Sarah was not with him, but I believe that she may have died, and he was therefore forced to ask his parents if they would take care of his daughter. Although there is a birth certificate that states that Ann Elizabeth is the daughter of Charlotte Farmer, this is incorrect and it is unsure who submitted this record. However, it is confirmed by the record entered by John and Ann Masters at the christening of Anne Elizabeth at St Leonard's, that her parents were Richard and Sarah Masters.  By this time, Richard would have been on his way to the Pacific.  It might not be sure where he was actually headed when left England, but if his father had told him to go as far away as he could, the Cook Islands in the Pacific would have been pretty close to it.
Meanwhile, Ann Elizabeth became the much adored grand-daughter of John and Ann but at the same time, they did not seem to lose touch with their grandson, John, who remained in Walcote with his mother.   Nevertheless, the pressures relating to the attitudes of other villagers towards Ann Elizabeth, charging her with the sins of her father or just general gossip, caused John and Ann to make a decision in 1858 to make a lifestyle change.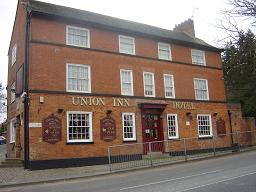 But, rather than move to another area as farm workers, they decided to invest in a new career as innkeepers and took over the Union Inn in Great Bowden.  They remained in this position until about 1870 when the returned to Walcote, to take over the Bull's Head Inn  (which I believe is now the Walcote Inn) which had previously been managed by their son-in-law Thomas William Archer since 1861.  After John's death on the 14th November, 1880, he had bequeathed 50 pounds each to his daughter Elizabeth and his grandson John William (this would have been equivalent to about NZ$130,000 today) which they invested back into ownership of the Bull's Head Inn. After Elizabeth died in 1891, things did not go to well for both Thomas or John William Archer, as by the 1901 census, John William had died of pneumonia and Thomas was penniless.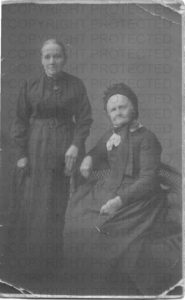 Ann Elizabeth Joel Masters married John Granger from nearby Lutterworth, not long after the family returned to Walcote. The marriage took place at St Marks in Leicester City on 16 December 1872.
This photograph appears to have been taken not long after the wedding, as Ann Elizabeth seems to be very proudly displaying the wedding band on her ring finger.  (Many thanks to Steve Hughes for this photograph).
John Granger was a plumber and general tradesman. Before John Masters died, he had made Ann's husband an executor of his will. He left Ann  Elizabeth and her eldest daughter, Edith, 100 pounds each (about NZ$20,000 in today's value); and to the remaining three daughters, he gave nineteen pounds, nineteen shillings (nearly twenty pounds). He also left his other grandson, John William, nineteen pounds nineteen shillings.  He also left five pounds for the son of his sister Elizabeth, George Elton who had married John Granger's sister,  Maria. George had also been made co-executor of his will.  Unsurprisingly, he didn't leave anything to his son, Richard.  As mentioned earlier he left fifty pounds each to his daughter, Elizabeth and his grandson John William. The will says that the remainder of his 500 pounds was to pay for any debts that needed to be cleared, including his funeral expenses and headstone.  John and George were to manage any of his other assets as well. At his death, John Masters was quite a wealthy man.
At the time, Ann Elizabeth and John Granger  and their four children –
Edith (b1876),
Alice (b1878),
Harriet (b1879) and
Mabel (b1880)
– had been sharing accommodation in Lutterworth with John's brother William and his wife Ellen and their three young children. Their new found wealth, enabled them to buy their own home in Oxford Street and later to Bank Street with the rest of their growing family – 
Annie (b1882)
Adelaide (b1884)
Joseph (b1888)
Agnes (b1890)
Charlotte (b1892)
Frank (b1894) and
Winnie (b1896)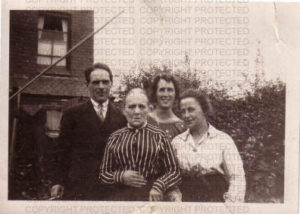 The family lived there for several years before moving to Leicester in the early 1900s.  Their address was 18 Ellis Ave. It is at this residence that on 13 March 1915  John Granger passed away, and on 26 October 1924 that Ann Elizabeth died at the age of 70.
This photograph shows Frank and Winnie behind Ann Elizabeth.
John Richard Masters, was Richard's son to Charlotte Farmer.
John Richard was baptised at Misterton Church on 25 January 1852. It is unknown
why "privately" was written in the record book beside his baptism entry unless
he was perhaps premature or unwell and not expected to live – or it was because people knew his father had absconded and left his mother minutes after the wedding ceremony.
In the 1861 census, John (aged 9) was living with his solo mother Charlotte (28) in Walcote. The census records Charlotte as the head of the family and married. She was employed as a
charwoman while John attended school. By 1871, Charlotte (38) was living with James Harding (29) as his wife and had changed her name to Harding. John Richard (19) was employed as a groom and lived at home with his half-sisters Sarah A. Masters and the children of Charlotte and James – Emma, Ann and Elizabeth. There were three more children after the 1871 census, William, George and Thomas.
On 26 December 1875 at St Marks, Leicester City, John Richard married Emma Lenton. St Marks Church had also been the venue of the wedding in 1872 of his half-sister Annie and her husband, John Granger. John R. (24) recorded his father as Richard Masters, Innkeeper, even though his father was no longer in England and it was his grandfather John who was the publican of the Bull's Head Inn in Walcote. At the time of his marriage, John was employed as a servant from St Mark's Parish, Leicester. Their marriage was witnessed by Walter Castle, a church warden, and Elizabeth Lenton (Emma's sister).
When his paternal grandfather John Masters died in 1880, John Richard received a bequest of nineteen pounds nineteen shillings (£19 19s) which in today's money would be worth about NZ$4,000. This would have enabled John and Emma to have some independence and may have influenced their change of career from the agricultural labouring positions of his parents' families. In 1881, John (29) and Emma (28) had moved to Rushyford in Windlestone  in Durham where John was a Whip to Foxhounds. The couple had a ten month old daughter, Violet M. In 1891, John (38) and Emma (37) had moved to Whiston Cross, Albrighton,
where John was again employed as a Whip to Foxhounds. Their family now consisted of Violet (10), George F. (9), William J. (7) and John R. (3). In 1901, John R. Snr (49) had returned to his earlier employment as a groom in Chicheley. Buckinghamshire. The family lived in the Hall Buildings. George F. (19) was also a groom alongside his father, William J. (17) was a mechanic and fitter apprentice, while Violet M. (20) helped Emma (48) to look after the younger members of the family – John R. (13) and the twins, Ada Lenton and Lillian Lenton (7).
The different birthplaces of the children indicate that the family moved around quite a bit following the hunting programme. Violet was born in Rushyford while the boys were born in Medbourne where John Richard may have been employed before they moved to Albrighton. The twins were born in Milton Ernest in Bedfordshire.  Chicheley however was to be the final home for both Emma and John. According to their death certificates, Emma died on 19 December 1902 at the Hall Stables in Chicheley and John died on 18 April 1904 also at Chicheley..