MARSTERS FAMILY TREE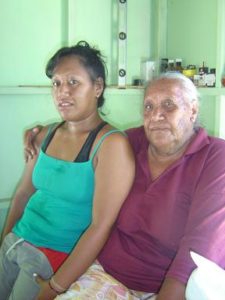 Little is known about the women to whom William Marsters had his 23 children apart from the fact that they were all from Penrhyn, the most northern island of the Cook Islands. His first child was Ritia to Arehata. The story is told that her father would not allow her to marry Marsters so that he married another Penrhyn woman. Akakaingaro, a chief's daughter.  Marsters called her Sarah. A reason for this is given in "Masters of Walcote".  What little is known about the women is found in research that was done by New Zealander John C Burland in 1961. 
In 2007, I made a visit to Penrhyn – the most northern of the islands in the Cook Islands. In the village of Tetautua, I met the last remaining grandchild of William Marsters. She was Ann, the daughter of Titera who was the last daughter of William and Matavia. She told me where Tepou was buried.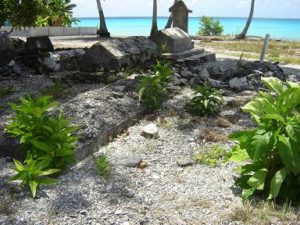 * Tepou left Palmerston soon after William Marsters died, and is buried on Tetautua, her home village in Penrhyn.  The islands on Penrhyn lie around one of the largest lagoons in the Pacific. It is only on a very clear day can Tetautua be seen from Omoka on the opposite side of the lagoon. Omoka is where the airstrip is that was originally built by the Americans during the war.  The journey home for Tepou from Palmerston to Penrhyn, the most northern island of the Cook Islands would have taken weeks.
At the time of my visit, Tepou's grave did not have a stone on it. It had disintegrated after years of damage by the seas. Ann directed her young grand-daughter to it from the window of their house because she was unable to move around too well. We were able to identify it by the small stone marker.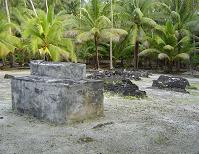 * Matavia died in Palmerston on 1891 and is buried on her family's section of the island. To recognise each of his families on the island, William Marsters divided the main island, and some of the islets, into three so that each family had somewhere to live and somewhere to plant their coconut trees, etc.  The families still live on their sections although intermarriage has blurred some "ownership" rights. Most of the government buildings have been constructed on the  central section owned by the "Middle Family" belonging to Akakakaingaro.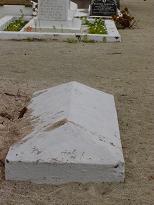 * Akakaingaro (also called Sarah) died in 1908 and is buried in the churchyard on Palmerston Island which is situated in the centre of the island – the section of the Middle Family. Her grave is a simple slab which at the time of our visit did not have an identifying feature. Apparently a simple plaque has been attached to the slab.
When this photo was taken, my cousin Eddie was preparing a grave site to the left of Akakaingaro's for his father, Bill, who was being transported on one of Tapi's boats. Unfortunately, they were delayed and arrived after we had returned to Rarotonga. We were literally "ships that passed in the night". 
The Descendants of William Marsters of Palmerston Island
From the 4 women, William Marsters had 23 children and 134 grandchildren. There are said to be thousands of descendants of William Marsters living throughout the world today. This genealogy was written by a Mrs Paget in the early 1950s who consulted with family on Palmerston and on Rarotonga to put this historical document together. Among her informants were Ned Marsters and his son Reverend Bill Marsters who until his death in 2004 was acknowledged among the family as an expert on the family's genealogy. I have had further confirmation that the names are accurate by my uncles Louis and Ioaba Marsters who were also experts on the history of the Marsters family of Palmerston Island. (My lineage is underlined)
1. Arehata (Penrhyn)
1.1 Ritia (Litia in the Penrhyn dialect)
m. Andrew William Ford
1.1.1- William
1.1.2- Helen
2. Akakaingaro (whom he married on Penrhyn. Also known as Sarah or Tata,  d.1908)
2.1 Ann (d. Samoa, about 1858)
2.2 Elizabeth (d. Manuae, about 1859)
2.3 Joel (b.1860, d.1918)
m(1). woman from Marquesas
2.3.1 William
2.3.2 Elizabeth
m(2). Tahua
– no issue
m(3). Elizabeth (Takapu)
2.3.3 Ann Matron
2.3.4 Tumai Sarah
2.3.5 Jimmy
2.3.6 Richard
2.3.7 Teina
2.4 William (b.1863, d.1946 – born the day before William and his family arrived on Palmerston Island)
m(1). Munokoa Tihau
2.4.1 Elizabeth (Tauariki)
2.4.2 Joel (Taime)
2.4.3 Richard (Dick Tama)
m(2). Tepoitemarama (Rakahanga)
2.4.4 Carl
2.4.5 Ned (Edward)
2.4.6 Tearaia
2.4.7 Sarah
2.4.8 Ann
2.4.9 Kura
2.4.10 Martha
2.4.11 Edward
2.4.12 Twin
2.4.13 James
2.4.14 Tuatai
        2.5 James (Coffin) (b.1864, d.1920)
m. Munokoa
        2.6 Edward (b.1865, d.1865 – 6months old)
        2.7 Elizabeth (b.1866, d.1930)
2.7.1 Te Hinano Paruai
m. David Manuka
2.7.2 Tom
2.7.3 Mary
2.7.4 Munokoa
2.7.5 Joe
2.7.6 William
2.7.7 Caroline
2.7.8 Puaiata
2.7.9 Ketia
2.7.10 Sarah
        2.8 Kura (b.?)
m. Taenga (Alfred)
2.8.1 Joel
2.8.2 Rapahua (Vivi)
        2.9 Tearaia (b.1881, d.1931)
m. Ketia Repaio
2.9.1 Elizabeth
3. Tepou Tinioi (cousin of Akakaingaro, originally brought to Palmerston to help her look after the children)
3.1 Marion
m(1). Nuiean man
3.1.1 Vaevae
 m(2). Raki
        3.2 John Maretapu (d.1905)
m(1). Metua
3.2.1 Richard (Dicky Boy)
3.2.2 Marion
3.2.3 Aaron
3.2.4 David
 m(2). Raono
3.2.5 Poutapu
        3.3 Thomas (d.1918)
m. Munokoa Poto
3.3.1 John (Monday)
3.3.2 Elizabeth (Paruai)
3.3.3 Kairenga
3.3.4 Jacob
3.3.5 Jimmy
3.3.6 Ann (Painkiller)
3.3.7 Joe
3.3.8 Aaron
3.3.9 Carry
3.3.10 Temu
3.3.11 Jacob
3.3.12 Joel
3.3.13 Nooroa (Blind)
3.3.14 Martha Maki
        3.4 Richard (Dick Rahi) (d.1945)
m. Tavake (Gilbertese woman)
3.4.1 Tom
3.4.2 John
3.4.3 Mata
3.4.4 Richard
3.4.5 Marion
3.4.6 Teroru
3.4.7 Korinako
3.4.8 Ann
        3.5 Ann Rahi (d.1943)
 m. Raki
3.5.1 William
3.5.2 Tom
3.5.3 Joe
3.5.4 Tepou
3.5.5 Puroua Raki
        3.6 Rapahua Carry (Kare)
 m(1). Raono
– no issue
 m(2). Kaiei (in Aitutaki)
3.6.1 Richard
3.6.2 Vaine
3.6.3 Daniel
3.6.4 Tom
3.6.5 Tuatai
3.6.6 Daniel
3.6.7 Kesi
3.6.8 Haua
3.6.9 John
3.6.10 Repaio
3.6.11 Martha
3.6.12 Marion
3.6.13 Joe
4. Matavia (Matauia in the Penrhyn dialect), wife of William Marsters' Portugese friend, Jean Baptiste Fernandos. They had a son called Mahuta who was 'adopted' by Marsters after the death of his friend.
        4.1 Pedrin (f, d.1939)
 m. Ngaropi
4.1.1 Andrew
4.1.2 Taenga
4.1.3 Sarah
4.1.4 Aaron
4.1.5 John
4.1.6 Are
4.1.7 Kurapare
4.1.8 William
        4.2 Andrew (d.1942)
m. Matetai
4.2.1 Pedrin
4.2.2 Tekena
4.2.3 Titera
4.2.4 Joe
4.2.5 Aaron
4.2.6 Andiline
4.2.7 Marion
4.2.8 Lizzie
4.2.9 Mary
        4.3 Taenga (Alfred) (d.1951)
 m(1). Kura
4.3.1 Joel
m(2). Hauatuatai
4.3.2 Tamapi
4.3.3 Mary
4.3.4 Aaron
4.3.5 Martin
4.3.6 Pedrin
4.3.7 Tauromi
4.3.8 Mose
4.3.9 Tiarua
4.3.10 Maihia
4.2.11 Bob
4.3.12 Matavia
4.2.13 Turu
4.3.14 William
4.3.15 Rubena
        4.4 Joe (d.1947)
m. Ruta
– no issue
        4.5 Mary
m(1). Harris
No Issue
 m(2). Tikaroa
4.5.1 Matavia Terapii
4.5.2 Ngarea
4.5.3 Tom
4.5.4 Paora
4.5.5 Mana
4.5.6 Makaro
4.5.7 Tungane
4.5.8 Mary
4.5.9 William
4.5.10 Egypt
  m(3). Teuringaru
4.5.11 Tako
        4.6 Aaron Bury
m(1). Vai
m(2). Puatama
        4.7 Titera
m. Tangi
4.7.1 Ngarengare
4.7.2 William
4.7.3 Andrew
4.7.4 Taenga
4.7.5 Joe
4.7.6 Bill Pou
4.7.7 Aaron Petero
4.7.8 Ann
        *Mahuta Fernandos
  m. Munokoa Tangipatu
– Pedrin
– Toma
– Matavia
– Aaron Toka
– Rahui