This is an excerpt from the book "The Masters of Walcote" (p40-41). It is the section that explains briefly about the life of Richard Masters, leading up to when he left England. Other events are written about in other sections of the book.
Richard was born in Walcote, Misterton, Leicestershire and baptised at St Leonard's on 6 November 1831. At the time of the first UK census in 1841, Richard (10) lived in Walcote village with his parents, John and Ann Masters, his older sister Elizabeth (13) and his younger brother Joel (then aged 1 year old). Although it is not specifically indicated in this census whether children went to school, it is assumed that Elizabeth and Richard attended the local school.
In 1851, Richard (19) was still living with his parents and family in Walcote. His sister, Elizabeth, was by this time married to Thomas Archer, and young Joel was aged 11 and
attending school. Although John Masters was listed as an agricultural labourer, Richard's occupation was given as "farmer's son". This reference did not necessarily mean that he was an agricultural labourer like his father, but then again, it does not specify that he was engaged in any sea-related occupation as told in stories by the Palmerston people.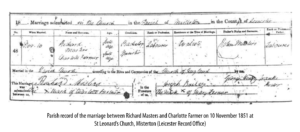 On 10 November 1851, at St Leonard's Church in Misterton, Richard married Charlotte Farmer. Richard signed his own name in the parish register indicating that he had been educated.  Charlotte signed with an X indicating that she could not write her name. Even John Masters, Richard's father could read and write by this time, whereas at his own wedding (at the age of 20 as was Richard) he too signed with an X. The ceremony was witnessed by Charlotte's sister Mary  Farmer and her husband, Joseph Bailey, a cordwainer 10 from Pailton, Warwickshire. On 25 January 1852, Richard and Charlotte's son, John Richard, was baptised (in private) at the Misterton church.
On 5 December 1853, the birth of a daughter named Ann Elizabeth was registered to Richard Masters and Charlotte (nee Farmer) at the Lutterworth District Records Office. On 15 May 1856, when the baby was formally baptised at St Leonard's Church in Misterton, she was renamed Ann Elizabeth Joel Masters and her parents were recorded as Richard and Sarah Masters. Future census documents record that Ann Elizabeth Joel lived with John and Ann Masters of Walcote, and that she was their grand-daughter.
Richard Masters' (b.1831) name does not appear in any UK documents that I could find after this baptism entry in 1856, while William Richard Marsters (apparently b.1821) appears in the Pacific in 1856. While Richard/William was engaged in adventures in the Pacific, his parents,
wife, son, daughter and other family members carried on their lives in England without him.
And this is what the rest of "The Masters of Walcote" is about.